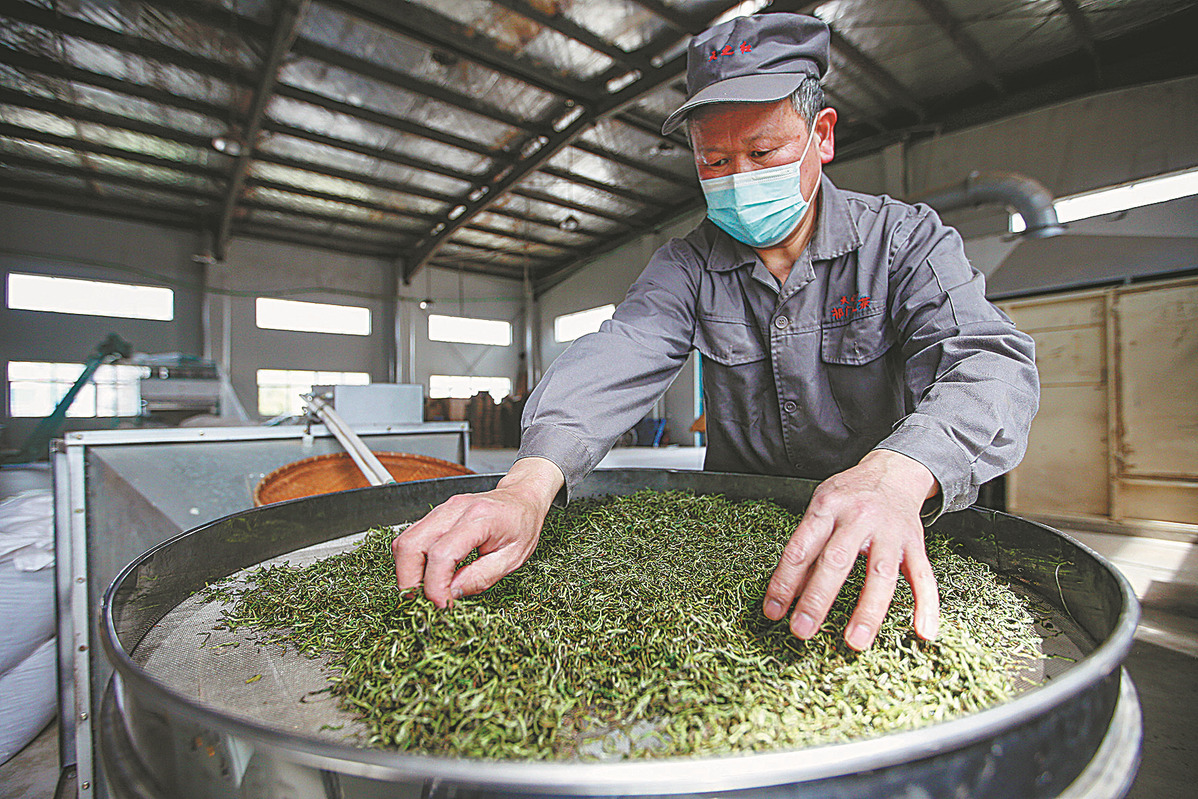 In the mountains of Huangshan in Anhui province, rain is refilling the creeks and bringing waterfalls back to life, with fresh flowers and tea leaves adding color to the surroundings of the traditional black and white residential architecture.
Spring in Anhui has always been a favorite for tourists and tea connoisseurs.
With the Qingming Festival-also known as Tomb Sweeping Day-falling on April 5, tour guides in Huangshan would usually be busy preparing for an influx of tourists, but the continued outbreaks of COVID-19 across the country have put a halt to that.
With many tour guides struggling to make ends meet, the Huangshan Association of Tour Guides released a statement last week suggesting them to take up temporary jobs.
And despite travel restrictions limiting people moving around the country, the tea leaves in Huangshan continue to grow and will need people to pick them.
The association is encouraging the city's tour guides to work as tea leaf pickers in the city's mountainous Huangshan district for a daily wage of 170 yuan ($27), with costs for meals, accommodation and travel covered by the owners of the tea gardens.
The wage promise was made by Huangshan district's human resources and social security department in a previous statement not only for tour guides, but all of the city's residents.
Huangshan government statistics show that tea gardens in the city cover more than 52,300 hectares, and produced 40,000 metric tons of dried tea leaves in 2020.
Huangshan district, where Huangshan Mountain is located, is a major tea producing area.
"Taiping Houkui is one of the best known locally produced green tea varieties and it alone requires more than 10,000 pickers in spring every year," said Wu Xuefeng, director of Huangshan district's human resources and social security department.
"In normal years, about 70 percent to 80 percent of the pickers come from outside the city, but at the moment people cannot arrive because of the epidemic," said Wu.
As the time for picking Taiping Houkui falls later than other varieties of tea, such as Huangshan Maofeng, the authorities are collaborating with other areas of the city to bring in more pickers.
The Huangshan Association of Tour Guides has almost 4,000 registered members, of whom almost three-quarters are full-time tour guides, said Chen Wei, the association's president.
"Many of them don't have any basic salary, which means their income depends totally on the number of tours they guide," said Chen, adding that the local government and the association are working together to ensure their livelihoods.
As of Tuesday, dozens of tour guides had taken positions as temporary tea pickers.
Cheng Wei, a local tour guide, said that since 2020 many of his peers had moved on, starting their own businesses in different sectors or working in factories. Despite this, Cheng is sticking firm to the industry he has worked in for more than 30 years.
"Recently, I have been working on upgrading the tour guide manuals for some tourism sites. I know income has dropped by more than 70 percent compared with before 2020, but I'm confident it will come back," he said.
The city recorded 63.1 million visits and an annual tourism income of 53.8 billion yuan ($8.45 billion) in 2021, about 81 percent of the 2019 figures, according to local government.