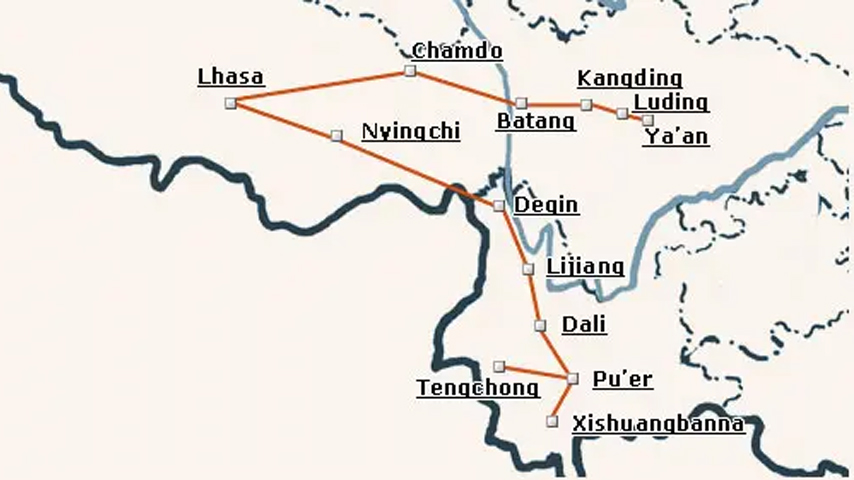 TAIPEI, Oct. 3 (Xinhua) -- Standing before a selection of photographs by her classmates and friends, Chang Yu-cheng is reminded of an adventurous journey to western China that expanded her range of life experience and her circle of friends.
The photos, currently on display at the Huashan Cultural and Creative Park in Taipei, were taken by several groups of young students as they traveled along the ancient Tea Horse Road, the centuries-old trade route that linked Tibet with the neighboring provinces of Yunnan and Sichuan.
Their journey was part of a cross-Strait exchange program allowing students to explore the Tea Horse Road, recording their discoveries by way of documentary photography. In 2018, while still a third-year student at Aletheia University, Chang was lucky enough to join the program.
She spent two weeks of her summer vacation visiting small towns, villages and temples in Yunnan, working as a volunteer in a local elementary school and having her first experience of altitude sickness.
"Although two years have passed, I remember every touching moment of that trip, in particular, children at the elementary school where we worked as volunteers. They were not shy of strangers like us, but very warmhearted and shared their stories and thoughts with us," Chang said.
She also developed friendships with the local college students who joined the group of Taiwan students on their trip, and she still remains in touch with some of them. The three-year program, starting in 2017, attracted nearly 100 young Taiwan students like Chang.
"The program was originally designed to be a summer camp on documentary photography, aiming to improve participants' skills and aesthetic taste, but in the end, they gained much more than that," said Kevin Tsai, president of the Taipei-based China Competitiveness Exchange Association, the organizer of the program. Chang recalled her stay at a small village in Yunnan, which she reached by mule. Her counterparts on the previous year's program had walked there, and following year's students traveled by car.
"I value the rare opportunity of visiting this place, because things change so rapidly these days," she said.
Tsai said that the young participants encountered firsthand culture and people with which they were not familiar, broadening their horizons and improving their understanding of life.
"Young people from the two sides of Taiwan Strait traveled together, took photos together and shared their thoughts. All of them improved themselves and produced quality works on topics that we had not considered before," he said.
The exhibition in Taipei involves 60 photos taken by the program's participants and runs from Oct. 1 to 4.
Source:http://www.xinhuanet.com/english/2020-10/03/c_139416366.htm