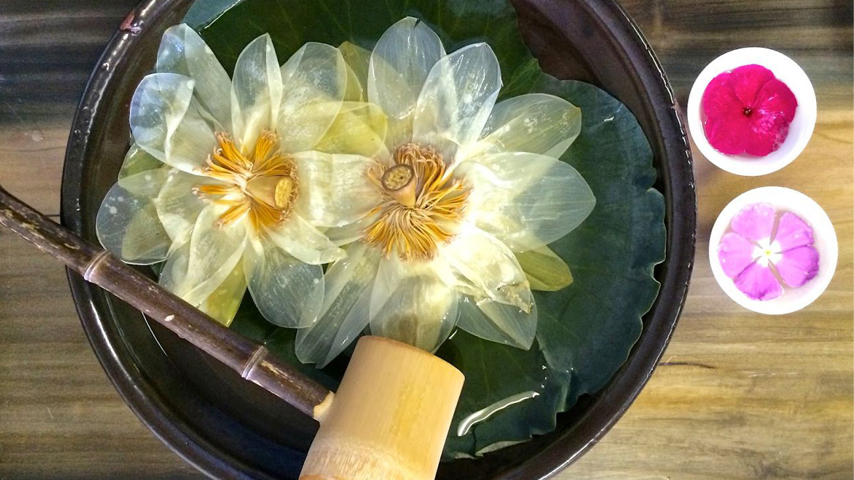 In recent years, the production of lotus flower tea has become a new way for villagers to increase incomes in Xiatao village of Shibeiping town, in Liuzhou city of South China's Guangxi Zhuang autonomous region.
With little arable land, the mountainous village is classified as one of the most impoverished areas of Liuzhou city, and people tended to migrate to the metropolitan area for work.
However, Luo Guixian, a local villager, began to work around home this year since the village is going all-out to plant lotus flowers for tea.
Paid by the hour, Luo can earn at least 2,000 yuan per month."I pick up flowers around eight in the morning and then tidy them up after lunchtime. The working time is quite flexible, so I can take care of my granddaughter at the same time," Luo said.
According to Zhong Min, Party secretary of Xiatao village, the local government has invested about 1 million yuan to develop lotus flower planting, as well as tea production."The government has helped build more roads and provided processing equipment and lotus seeds for free," Min said.
So far, the village has transformed nearly 6.67 hectares of idle land to build a lotus base following the model of "base+cooperative+farmer", and a complete industrial chain including planting, picking, drying, packing and marketing has been set up. By October, total yearly sales of lotus-related products had exceeded 1 million yuan.
Qin Xiangxian, manager of the lotus growing base, said the base would prioritize hiring impoverished farmers to increase their income. "We have helped over 30 families to increase their incomes through lotus planting," Qin said.
Apart from the lotus, Xiatao village also cultivates bauhinia seedlings to sell to Yunnan, Guizhou, Sichuan and other places, with annual sales of 7 million yuan. "Although our livelihood is greatly improved, we need to create a more livable environment to further develop tourism, " Min said.
Source:https://www.chinadaily.com.cn/a/202012/11/WS5fd36247a31024ad0ba9b604.html