Tea And Culture
How much do you know about Longjing tea
Longjing tea is manufactured in the West Lake district of Hangzhou, China. The Longjing, literally "Dragon Well", is located at Fenghuang Mountain. Tianmu Mountain is located at Lin'an County in the north west of Zhejiang Province. There are two 1500-meter peaks, each with a pond on top filled with crystal clear water looking like an eye, hence the name Tiānmù (Chinese: 天目, lit. "heaven eye").
Like most other Chinese green tea, Longjing tea leaves are roasted early in processing (after picking) to stop the natural oxidation process, which is a part of creating black and oolong teas. The actions of these enzymes are stopped by "firing" (heating in pans) or by steaming the leaves before they completely dry out. As is the case with other green teas (and white teas), Longjing tea leaves experience minimal oxidation. When steeped, the tea produces a yellow-green color. The tea contains vitamin C, amino acids, and, like most finer Chinese green teas, has one of the highest concentrations of catechins among teas.
The tea can be very expensive,and the prices depend on the varieties, of which there are many. Longjing is divided into six grades: Superior and then 1 down to 5. Infused leaves are a good indicator of quality, which is characterized by maturity and uniformity of the shoots harvested for processing. High quality Longjing teas produce tender, whole leaves that are uniform in appearance. Lower quality varieties may vary in color from bluish to deep green after steeping. Before infusion, higher quality Longjing teas have a very tight, flat shape and light green color. A study by Wang and Ruan (2009) found that one aspect of the perceived low quality of Longjing teas was a higher concentration of chlorophyll, producing a darker green color. The study revealed that free amino acids and theanine concentrations contribute positively to what is perceived as a good taste.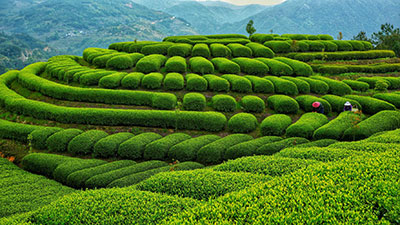 Contact Us
Add: 414, Institute of Quality Standard and Testing Technology for Agro-products of Chinese Academy of Agricultural Sciences, No. 12, Zhongguancun South Street, Haidian District, Beijing, China
Email:typ@withworld.cn
Tel:+86 10 53647310