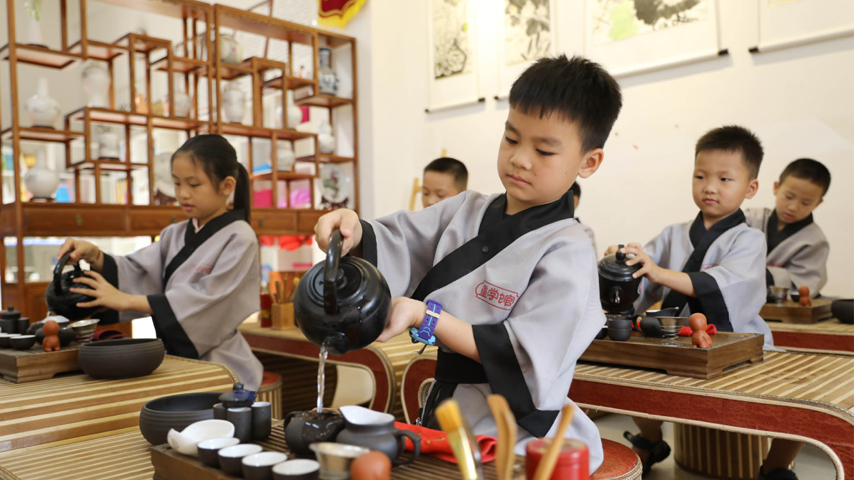 CHANGSHA-Jiang Birou, 19, remembers the excitement of attending her first tea ceremony class as a sixth grade student.
"That was my first extracurricular class," she said, adding that the tea ceremony had brightened her childhood.
Located in the midst of mountains, Jiang's hometown in Weishan, Hunan province, has favorable conditions for growing tea but little arable land and inconvenient transportation. As result, a large number of young people migrate to cities for better job opportunities, leaving behind their children and parents.
Jiang was once such a left-behind child.
"When I was a little girl, I used to help my grandparents pick tea leaves, and I didn't have much communication with my parents," she said.
That changed in 2012 when Jiang's school organized a slew of extracurricular activities, with Jiang the first to sign up for the tea ceremony class.
"In Weishan, almost every household grows tea, but we know little about the traditional tea culture," she said. "Through the tea class, however, I learned a lot.
"In retrospect, I feel the tea art classes helped me calm my mind, manage my emotions and I began to communicate more with my parents because of the interesting classes."
Jiang is now a freshman at Wuhan Conservatory of Music. Due to the COVID-19 pandemic, the start of her new semester was delayed, and she stayed in Weishan for a protracted Spring Festival holiday, often visiting her old primary school.
Jiang said the sight of girls at the school learning tea art in a clean, bright classroom made her proud. "I hope they can enjoy the tea ceremony, as it will bring more harvests than they could imagine," she said
Eleven-year-old Gao Yingxin has been attending tea art classes for a year. Once a shy and reserved girl, she has now made many good friends.
"The gestures and movements we learn in the class are very interesting, so is the costume we wear," Gao said.
She said tea-related activities such as plucking leaves and discussing the making of tea enrich her extracurricular life. When talking to her father, who works in India, by phone, she shares stories about her tea art classes.
Gao is among the 27 students taking the tea art class at the school, and about 85 percent of her classmates are left-behind children.
Yang Jinpeng, the school's principal, said it has offered tea art classes to students in grades three to six since 2012, with more than 30 students signing up each year.
"Many children become more optimistic and confident after joining the tea art classes," Yang said. "We hope that through tea art and other extracurricular classes, children can forge companionship with their classmates and teachers and learn something meaningful."
Source https://global.chinadaily.com.cn/a/202008/06/WS5f2b5e83a31083481725e8ba.html