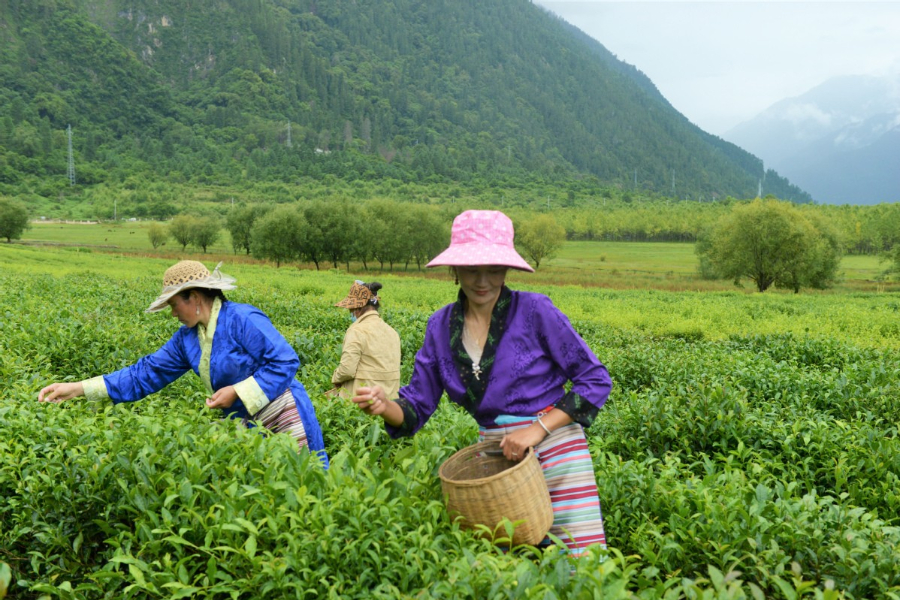 An agronomist from Fujian province has successfully introduced a type of tea with a rich aroma, from which various kinds of processed teas can be produced, at the world's highest tea farm in the Tibet autonomous region.
Last year, Yang Ruxing, a 52-year-old expert from the Fujian Academy of Agricultural Sciences, introduced 11 Fujian tea varieties from the species, including jinmudan and huangmeigui, to the Yigong Tea Plantation in Nyingchi's Bomi county.
"Oolong tea, a traditional tea with a distinctive flavor, is grown in Fujian and sells well nationally. We tried to grow it in other places, including Tibet, which mainly produces green and black tea," Yang said.
The new introduction fills a gap in Tibet's tea production and can be used to make different kinds of tea, including oolong, green, and white tea with added floral and fruit flavors.
"In addition, its leaves are better suited to machine harvesting," he added.
So far, a 2.3-hectare demonstration center has been planted with 110,000 saplings. About 95 percent of those planted survive, Yang said.
Located at a high altitude with little rainfall and subject to cold weather, the plantation was previously not considered suitable for the cultivation of tea, but has become the only large-scale plantation in Tibet.
The varieties previously grown at Yigong were introduced chiefly from Fujian in the 1960s, but did not perform well in terms of yield and aroma.
Since 2018, Yang and his team have been researching the area's climate and soil conditions, which has enabled them to break the bottleneck in growing teas with rich aromas on the plateau. Nyingchi's alkaline soil has a direct effect on the survival rate of tea, which generally prefers to grow in acidic soil, Yang said, adding that seedlings also experience severe dehydration during transportation to Tibet.
Technicians from Fujian came up with solutions for problems of soil, water management and transportation.
"We tried things like setting up devices to dissipate heat on the vehicles and covering seedlings with mulch to protect them against the cold," Yang said.
Two years after they were planted, most of the varieties introduced are growing well.
"Next year, we can test for production and quality, and study the way the plants have adapted to drier, colder conditions," he said.
"If they are promoted, people will change their understanding of tea production in Tibet and local incomes will rise," Yang said.
In Fujian, the average gross income from a hectare of oolong or white tea can be as much as 150,000 yuan ($22,412), he added.