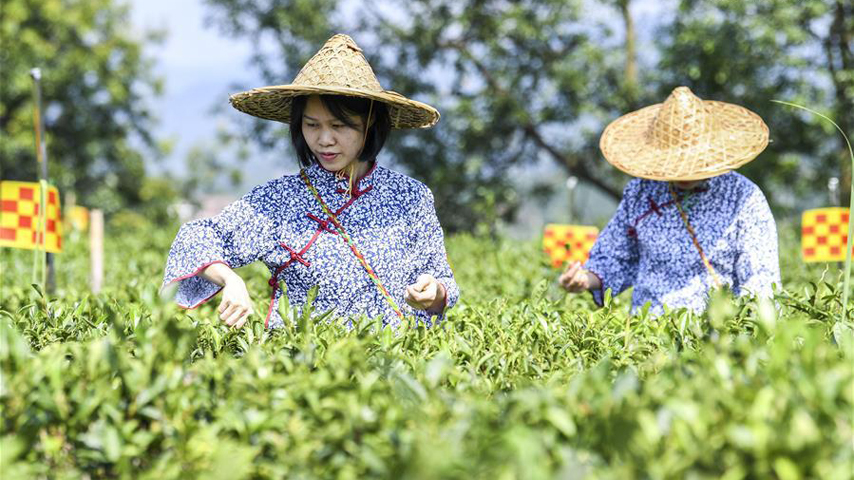 NANNING, Sept. 10 (Xinhua) -- Busy toasting tea leaves on a stove, Wei Jiequn basks in the fresh aroma filling her workshop in Liubao Township, Cangwu County, south China's Guangxi Zhuang Autonomous Region.
Wei, 62, and her youngest daughter Shi Rufei, have tea in their blood, as the decade-old family business and traditional craft -- Liubao tea -- are passed on through the generations.
Their hometown has a tea-making pedigree that stretches back roughly 1,500 years. The dark tea impresses guests from far and wide with its lingering fragrance, winning itself a place on the national intangible cultural heritage list.
Plucking tea leaves in the mountains is a common childhood memory of the local residents. Bartering tea leaves for food in nearby towns helped feed the poor villages over the decades.
Yet lean times and the dampening of demand threw the tea industry into turmoil in the 1980s.
Wei, who regards tea making her first and only career, began to run a small storefront while purchasing tea leaves and selling Liubao tea after the factory she worked for went bust in 1986.
She was convinced that given the improvement in people's living standards, surging demand for high-quality tea would soon follow as the nation opened up and its economy grew. She did not have to wait long for the tipping point to arrive.
In 2003, Wei built her own tea workshop. Her adherence to traditional tea-making methods and passion to pursue premium products fueled her as she trekked through the mountains in search of old tea trees for over three years.
"Although natural fermentation is a long grind, it's worth the pain. The tea leaves look and taste better with a great fruity smell in a way that machinery just can't replicate," Wei said.
In an era when machinery dominates tea processing, Wei's loyalty to the traditional craft brings in throngs of customers as well as keen admirers.
Her youngest daughter Shi Rufei, 33, was among the very first students in the workshop.
Honing one's tea-making skills demands huge reserves of patience, empathy and a strong sense of vocation. "Even in the scorching summer heat, I have to bake while kneading the leaves by hand all day long. The blistering heat has me drenched in no time," Shi recalled.
Since 2010, regular training sessions have been carried out in Wei's workshop, helping the locals engage more with the traditional craft. A showroom was also set up, with the historical, cultural and geographic roots of Liubao tea on display.
"We are working to develop new flavors and packaging to suit every wallet," said Zhang Yingfeng, a 20-year-old tea maker from the workshop.
The workshop has also developed a following on e-platforms via livestreaming, with its online sales accounting for about 30 percent of the total.
So far, more than 300 local villagers have joined the business, while the plantation of tea trees has exceeded 73 hectares in the village where Wei's workshop is based. Last year alone, Cangwu County produced some 3,000 tonnes of Liubao tea leaves, worth over 1.5 billion yuan (about 219 million U.S. dollars).
"We, the younger generation, should cherish traditional techniques while tapping the innovative potential of Liubao tea," Zhang said.
Source: http://www.xinhuanet.com/english/2020-09/10/c_139358880.htm