by Dan Bolton, March 14, 2022, STiR
Overcoming the combination of sanctions, boycotts, pandemic-impeded logistics, and the suspension of business by beverage multinationals – a virtual economic blackout – is all but insurmountable for Russia's major tea brands.
Blenders and grocery brands are scrambling to land tea in transit while exploring risky workarounds. Blenders are trucking paper through Latvia to make teabags. FUSO nylon is nowhere to be found. Tea suppliers usually stock two months inventory in their warehouses, possibly a little more to hedge against delays in delivery times due to the pandemic.
Right now, there is no tea en route to replenish supplies. Brand owners estimate that stocks will be exhausted before July.
An even more significant challenge for domestic brands, including Orimi Trade and May Foods, is overcoming hurdles like financing shipments upfront. Russia no longer permits the exchange of rubles for US dollars. The ruble's 40% devaluation (rubles are now trading at less than one US cent) makes paying for insurance and newly imposed fuel surcharges much more difficult. According to Nielsen, in 2020, Orimi and May accounted for 62% of the RUB50 billion spent on tea in grocery and department stores last year. In Russia, open markets account for 15% of sales, 20% of the tea is sold in convenience outlets. Two weeks ago, groceries earned $1 billion selling tea; after devaluation that billion in sales is worth only $460 million.
Sanctions Bite
Tea is listed as an essential foodstuff, exempt from sanctions. Demand globally remains strong. Nonetheless, the price of tea at the major auctions declined the past two weeks mainly due to uncertainty regarding payments. Seven Russian banks are currently blocked from using SWIFT for clearances which means that tea traders with accounts at these banks can no longer transact sales in dollars.
Last week several of the world's largest containers carriers, with combined bookings of more than half the entire world's capacity, refused to land or receive goods at Russian ports. Uncertainty led most tea-producing nations and international tea brands to turn to more promising markets than Russia.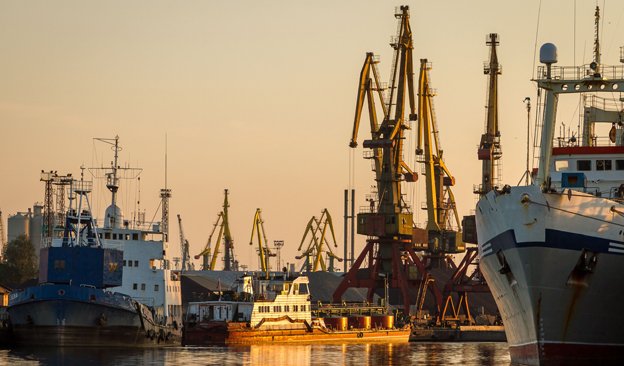 "In my view, demand will be there, and I believe the government of Russia will be keen to make sure that people get their tea," said Ian Gibbs, chairman of the International Tea Committee. "Reduced demand in one market will have knock-on effects elsewhere," he said.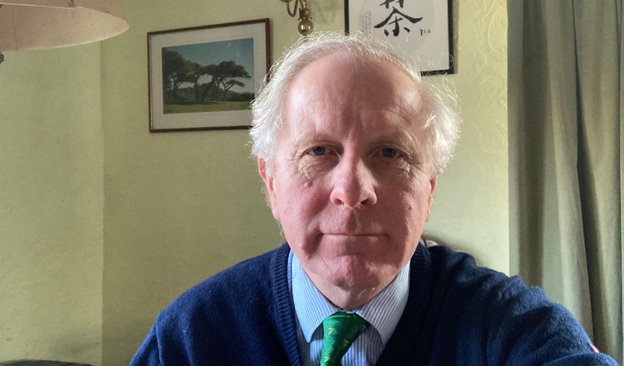 Gibbs said that "unlike other occasions when sanctions have been applied, I think that the feeling of the majority of people worldwide — at the government level, commercial companies, and as individuals — is they want to see these sanctions effective as a result of what they are seeing on the television and the internet. So, it's going to be quite a challenging task, I think, for exporters."
India, Indonesia, and Sri Lanka exporters rely so much on Russia that they are determined to discover a route of safe economic passage. Russian buyers at auction account for 20% of India's tea exports and nearly the same percentage from Indonesia. In 2020 Sri Lanka exported 30,400 metric tons of tea to Russia, about 10% of Sri Lanka's tea exports. Bartering grain and fertilizer is promising. India has a history of bartering wheat with the Soviet Union, but any country aiding Russia can suffer a backlash.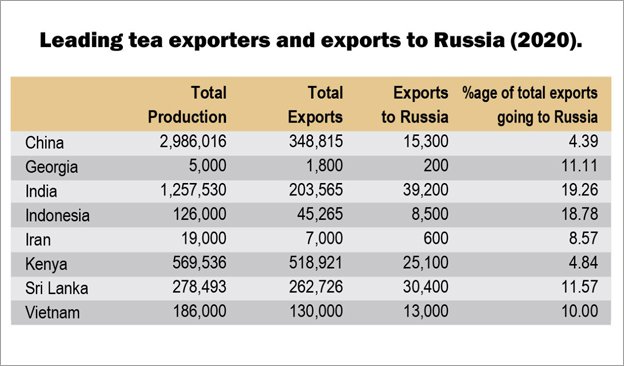 Origins willing to ship cheap tea without concern for foreign exchange dollars hold an advantage. Low-priced tea from Tanzania, Burundi, and Uganda may find Russian buyers in Mombasa, but transport remains an issue.
Neither China nor Vietnam recognizes sanctions. China is actively thwarting efforts to cripple Russia's economy by processing payments and making available reserves held in yuan. China is also participating in Russia's ruble-based payment system. The Belt and Road rail network is practical for transporting green tea arriving from Vietnam and China, but 85% of Russia's tea market is leafy and lower-grade black teas. Railroads are not economical when hauling goods in only one direction. Chinese trains that arrive loaded with goods essential to Russia will return empty due to sanctions.
China's $17.7 trillion economy is ten times greater than Russia's $1.7 trillion gross domestic product. Cynics observe that running up an enormous debt buying from the Chinese in devalued rubles will make Russia into nothing more than a conveniently adjacent "cornfield and discount gas station" for China.
Unlike the West, where households spend less than 15% of their earnings on food, a 2021 consumer survey of Russian households found that 60% spend half their monthly income on food. Market researchers estimate that 98% of the country's 144 million people drink tea, but they are likely to trade down to lesser grades of tea. According to World Bank statistics, Russians are not wealthy, earning a per capita average of $11,700 US last year, down from the pre-pandemic average of $12,100 a year.
During the 2008-9 financial crisis Rosstat, the Russian statistics agency reported that 40% of Russians adopted austerity budgets for everyday household items. Grocery sales fell 15-25% in the premium and "mid grade plus" segments and rose 15-20% in the "mid grade minus" and economy segments. At that time, inexpensive private label brands accounted for more than 65% of the retail chains' sales, goods in the average price bracket accounted for 30% of sales, and premium-priced goods for less than 1%, according to RBC.
Flight of the Multinationals
Each with billion-dollar tea brands, Coca-Cola, PepsiCo, and Starbucks announced that they would no longer do business in Russia.
Unilever, the world's third-largest tea company, halted all Russian imports and exports and stopped advertising its entire portfolio but will continue to sell food products manufactured at five Russian facilities. Nestle (Nestea) announced closing three factories that make powdered and liquid beverages and employing 5,000 workers. UK-based Ahmad Tea and Unilever/Ekaterra have about 6% market share (down from 10% in 2010). Yorkshire Tea in England and the Hamburg- and Amsterdam-based tea wholesalers will no longer ship to Russia. Sri Lanka-based Akbar is typical of well-established niche brands with a single-digit market share that faces supply chain disruption.
The Russian sanctions are the first modern instance of tea companies independently retaliating with their economic might to affect political change. However, market share is tiny, and while loyal customers will miss European teas, the masses will not notice.
Ahmad Tea, one of Russia's top five tea brands, is blended and packed in Russia and will continue operations, according to SDS Foods, the brand's exclusive distributor. Ahmad was founded in 1986 and has been available in Russia since 2008. Packaged goods manufacturer and distributor Avalon Group operates a tea-packing factory (including Golden Cup and Tea Valley). Facilities like the company's 50,000 square meter distribution center in Khabarovsk are part of a network of 15 product distribution centers serving 25 cities in Russia and the CIS. Azurcay, a fast-growth brand founded in 1996 in Azerbaijan, is allied with Russia. The crisis will likely grow the brand's 5% market share in specialty retail and grocery. Local brands like Krasdonar [Krasnodarskyi] are popular in Sochi will also benefit.
Increases in retail prices for essential goods in supermarkets must keep within government guidelines. Grocers, for example, were advised to limit price increases to 5% for dairy, bread, and sugar. Tea is considered an essential foodstuff and therefore not subject to sanctions, but food inflation at 40% in some categories limits sales. The average Russian family in 2020 spent half of its earnings on food.
Thomas L. Friedman writing in the New York Times explains that Russia "completely underestimated the ability of companies and individuals all over the world to participate in and amplify economic sanctions on Russia — far beyond anything governments initiated or mandated."
Removing European and US tea brands from the market will not significantly reduce consumption. The impact of withdrawing even well-known brands like Lipton is minimal as foreign packaged tea is now priced too high for facing 40% food inflation.
Winding Down the War
"I think that the trade in foodstuffs, including tea, should be restored to normal fairly quickly once hostilities end," said ITC's Gibbs. But a cease-fire in Ukraine is uncertain. A long-term insurrection means sanctions could remain in place for years.
Like bread and milk, tea is viewed as an essential. Brand owners say government directives discourage grocers from increasing prices. "It's not a fast process," explained one brand owner who was astounded to see price adjustments within a week after sanctions were announced. Rules controlling prices and limiting purchases to prevent hoarding did not list tea. Retailers agreed to limit markups to 5% on dairy, baked goods, and sugar.
Tea is not alone; other commodities are contending with the same problems, observes Gibbs. Gibbs said, "I personally believe that it's a blip – it's going to take time to sort things out, but new opportunities are invariably out there waiting to be explored – and we have to find them."